French Wine Pairing Night (Wine & Food Pairing Dinner) SOLD OUT
French Wine Pairing Night (Wine & Food Pairing Dinner)
Limited Early Bird Tickets are now on SALE until 5th April 2023
Explore this wine pairing night with a 4-course menu pairing with 3 wines
Date: 9th April 2023 (Sunday)
Venue: La Fleur By LamboCellar
Time: 6:30 PM to 9:30 PM
Price: Early Bird RM259 per pax / Normal Price RM399 per pax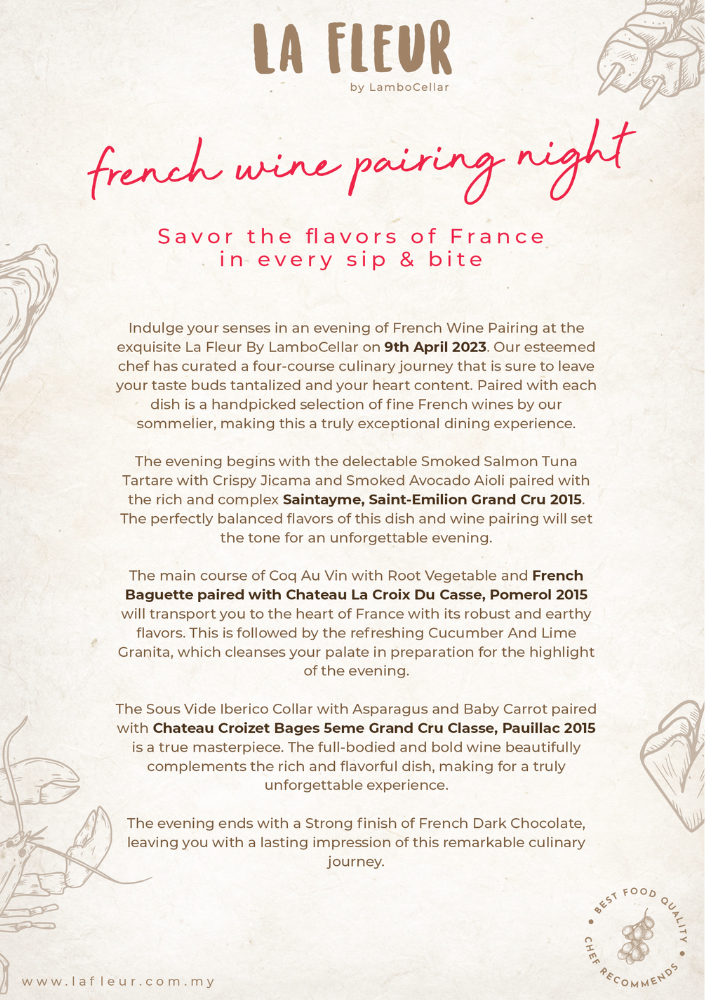 Join us on 9th April 2023 (Sunday) from 6:30 PM to 9:30 PM for a night of sophisticated indulgence. Our "French Wine Pairing Night" promises to take your taste buds on a journey of discovery, as you savor the nuanced flavors and aromas of carefully curated wines, perfectly paired with each course.
Don't miss out on this exclusive opportunity to explore the depth and diversity of French wine pairing. Our early bird tickets are priced at only RM259 per pax, while the normal price is RM399 per pax. Secure your place at this must-attend event today, and prepare to be transported to the vineyards of France without ever leaving the city.
Grab your spot now and prepare for a night of indulgence!
*The event is on the 9th of April 2023, starting at 6.30 pm sharp
*Guest Registration opens at 6.00 pm